Overview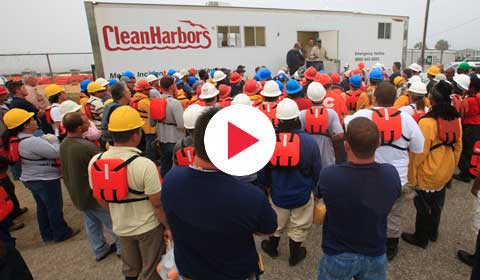 With more than 200 locations in North America, Clean Harbors has the manpower, equipment and technical expertise to manage any size environmental emergency on land or water.
When evaluating emergency response companies, know that Clean Harbors can rapidly deploy experienced, fully certified workers to meet the needs of any incident in the United States, Canada or Puerto Rico.
Emergency spill clean up
Over-the-road incidents 
Punctured lines 
Tank overflows 
Leaking drums 
Saddle tank spills 
Large pipeline ruptures 
Mercury spills
Biological and infectious materials 
Ship groundings 
Tanker truck rollovers 
Chemical and hazardous material spills 
Oil spills
Hurricane, earthquake and storm damage 
Emergency lab packs
Homeland security and terrorist attack responses
Releases in warehouses and distribution centers
Excavation of buried drums and cylinders
Download Clean Harbors Emergency Response Resource Book
Download Clean Harbors Emergency Response Resource Book for Canada
Download Emergency Response Brochure
Download Fact Sheet (Emergency Response Services)
Download Fact Sheet (Emergency Operations Center)
Download Fact Sheet (Bird Flu Rapid Response Services)
Rapid Response and Containment
Varying by the response, spills typically can be contained within the first few hours, with minimal remediation in the next 48 hours. Clean Harbors works under all local, state and federal guidelines (EPA, OSHA, USCG, etc.) when performing containment and cleanup. Waste for off-site disposal is packaged and prepared for shipment to a waste treatment and disposal facility. 
Emergency Preparedness
Clean Harbors Emergency Response experts can provide guidance on emergency management, operations, planning, logistics and more. Our Standby Emergency Response Coverage ensures that you have the necessary coverage and response in the event of an environmental emergency.
Oil Spill Removal Organization (OSRO)
Under the U.S. Coast Guard's OSRO Classification Program, Clean Harbors holds Captain of the Port ratings for facilities and vessels in 56 ports throughout the United States and Puerto Rico. 
Emergency Operations Center
Clean Harbors operates an Emergency Operations Center where duty operators certified in DOT and RCRA can help you 24/7. One number, one call: 800.645.8265