Industrial & Specialty Services
---
Overview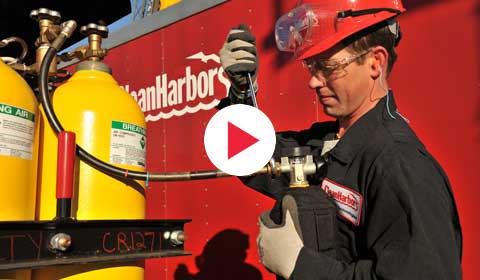 With highly skilled staff, a vast equipment inventory and more than 35 years of experience, Clean Harbors provides a wide range of Industrial and Specialty Services throughout North America.
We safely and efficiently manage hazardous, non-hazardous, wet and dry materials utilizing specialized equipment and techniques.
Clean Harbors Completes Acquisition of HydroChemPSC
In 2021, we acquired HydroChemPSC, a leading U.S. provider of industrial cleaning, specialty maintenance and utilities services. Its services are built around providing solutions to customers focused on cleaning, maintenance and environmental compliance of essential, mission critical equipment and infrastructure. In 2022, HydroChemPSC was rebranded to HPC Industrial. Read on to learn more about our enhanced capabilities.
Our services include:
Industrial field services
Pigging and decoking
Chemical cleaning
Hands Free™ technologies
High-pressure services such as cold cutting, dry ice blasting, ultrasonic cleaning and exchanger, line, vessel and tank cleaning
Dewatering and materials processing
Outage and turnaround services
Pipeline coatings services
Hydro Excavation
Liquid/Dry vacuuming
Chemical hauling
Ultrasonic cleaning
DryAsh™
Re-Source Solutions