Medical Waste Management and Destruction
---
Overview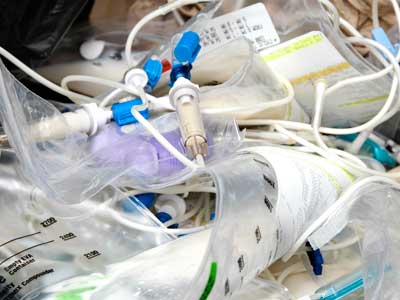 Clean Harbors provides reliable medical waste disposal by incineration for a wide variety of materials.
Medical waste disposal poses unique challenges. Clean Harbors has the technical expertise, equipment and experience to meet these challenges. Our world-class incineration facilities exceed the highest environmental standards. We ensure the safe, effective and total destruction of all biohazard waste.
Clean Harbors medical waste management service provides exclusive handling, transportation, destruction and tracking of medical waste satisfies the demand for sound liability management and protection. Medical waste incineration is the only way to guarantee that no residuals will find their way back into the environment.
Safe and Secure "One-Time Use" Container Management
We only use new, airtight containers that will not expose your employees or patients to potentially unsafe reused vessels. All medical waste containers are packaged and sealed at your location and then destroyed at our incineration facilities. 
Vendor Consolidation to Reduce Costs
For companies that are focused on efficient procurement practices, Clean Harbors consolidates hazardous and medical waste disposal, which reduces the costs of working with multiple waste management vendors.
Download Fact Sheet (Medical Waste Management Services)
Download Fact Sheet (Services for Medical Labs and Acute Care Facilities)