Overview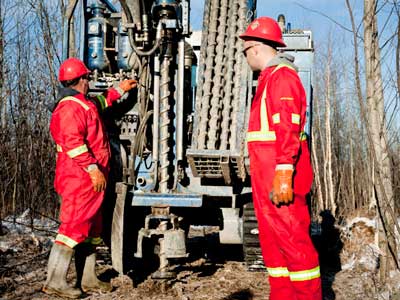 Clean Harbors Seismic Drilling services focus on safety, production and durability. 
Our drills are user-friendly and lightweight, and give operators the air and power they need to maximize production. Liquid-cooled motors with pro-heat heating systems allow us to drill quicker in temperatures as cold as -30C. And, to minimize downtime, every crew has spare equipment and a full-service mechanical support unit.
Heli-Portable Drilling
Equipped with drills and compressors, including spare drills, double-walled fuel tanks, base radios, repeaters, cellular and satellite phones, and support tools and parts.
Track/Buggy Drilling
Environmentally friendly land-based seismic drilling utilizes special drill-mounted track equipment that has low ground pressure, which is ideal for soft ground and muddy conditions, and does not disrupt duff (top six inches of ground).
Geotechnical/Geothermal Drilling
Specialized heli-portable, track, and truck-mounted geotechnical drills utilized in the pipeline, construction and environmental industry.