Consumer Products Disposal
---
Overview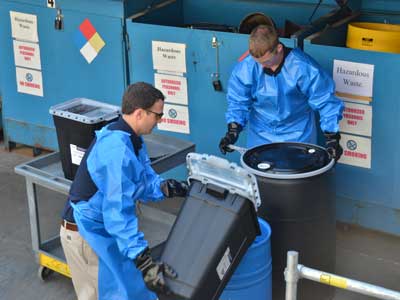 Clean Harbors provides a wide range of cost-effective services for disposal of hazardous and non-hazardous consumer products.
Safely and legally disposing of consumer products requires regulatory knowledge, manpower and equipment—all strengths of Clean Harbors Waste Disposal Program. We collect, sort, package, manifest, transport and dispose of the following waste products in compliance with local, state, provincial and federal regulations:
Damaged or defective products
Expired products
Recalled products
Hazardous and non-hazardous products
Damaged and Discarded Goods Management
Clean Harbors safely and routinely manages consumer products that must be discarded due to shelf life expiration or damage, preventing them from entering the consumer market. These items include:
Aerosol cans
Lighter fluids
Ammunition
Toys
Cosmetics
Perfumes
Flammable goods
Garden supplies
Oils
Engine fluids
Parts cleaners
Depending on your product disposal requirements, we can provide landfill disposal for non-hazardous items at a lower cost than incineration. We can also provide cost-effective incineration, fuel blending and aqueous treatment for hazardous and non-hazardous consumer products.