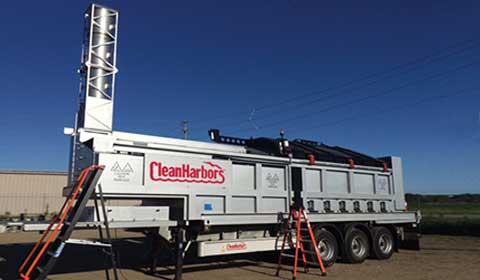 Highly pathogenic avian influenza is an extremely infectious and fatal disease that can spread rapidly among flocks and into surrounding farms - wreaking havoc on entire areas. 
With strategically placed resources across the continent, Clean Harbors is the largest emergency response provider in North America and offers the most comprehensive agricultural cleaning and bio-containment services available.
Concentrated in Iowa, Clean Harbors in the summer of 2015 responded to one of the worst outbreaks of avian flu in U.S. history - an epidemic that spread through 174 farms in 15 states and affected 38.9 million birds. 
Swift, meticulous and thorough response is the only way to ensure poultry farms or other bird facilities return to full production with the least amount of disruption.
Clean Harbors offers myriad agricultural and bio-containment services to protect farms including bio-security, depopulation, disposal, cleaning and transportation.
---
Biosecurity
Clean Harbors teams follow the strictest of bio-security measures to prevent the spread of infection.
Depopulation
Following all United States Department of Agricultural approved protocols, Clean Harbors crews are trained and experienced in all acceptable depopulation processes. 
Disposal 
On-site methodologies help minimize the offsite spread of the infection. Clean Harbors provides all three USDA-approved on-site disposal methods - offering removal using Clean Harbors transportation equipment and decontamination processes that reduces risks by avoiding handoff to a third party.
Cleaning
Dry, wet, disinfection and heat processes are combined as needed to maximize cleaning effectiveness for sites in order to get owners back into operation as quickly as possible.
Transportation
Clean Harbors trucks and containers transport all waste to local, approved landfills or disposal facilities. Crews perform a thorough decontamination process before leaving and returning to a site and all routes are scrutinized to minimize potential impact to unaffected facilities. In addition, staged response teams are always in place to react immediately to any transportation issues. 
---
Clean Harbors' services are delivered by trained experts using Company-owned assets, giving clients the agility to act quickly and effectively no matter location.
With a proven track record of success on the largest scale, Clean Harbors training and service methodologies are based on USDA criteria, Occupational Safety and Health Administration standards and the highest of bio-security principles. 
One call to 800.645.8265 or email to hpai.us@cleanharbors.com puts owners in touch with the same Clean Harbors experts who work with federal and state agencies along with local agricultural representatives. When time is of the essence, there's no need to get bogged down with paperwork - Clean Harbors representatives can also help with USDA forms and many insurance documents.