OSHA Recognizes Impressive Safety Streak at Arkansas Facility Following Star Designation for Fifth Consecutive Year
---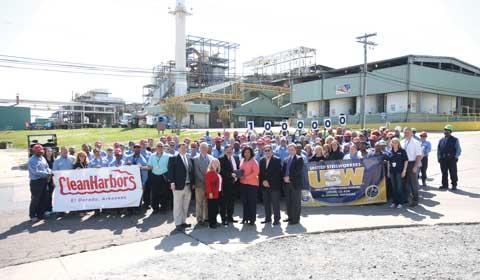 The Arkansas Department of Labor has recognized Clean Harbors for reaching a significant safety milestone at its El Dorado incineration facility - 1 million man hours without a lost time accident.
The streak, which began on Oct. 5, 2014, reached the 1 million hour mark on Feb. 6, 2016, and continues to grow, according to Carlos Reynolds, area director of the Occupational Safety and Health Administration (OSHA) area office in Little Rock, Ark.
Clean Harbors commemorated the occasion with a ceremony at the facility.
We're pleased that OSHA has commended our environment of excellence, which has been created by the hard work and dedication of our more than 300 employees at Clean Harbors El Dorado, said Facility Manager Dan Roblee. Achieving 1 million man hours without a lost-time accident is an impressive milestone that would not have been possible without the commitment to safety of the entire workforce.
This winter, for the fifth consecutive year, OSHA classified the El Dorado facility as Star Level - the highest possible category in the federal agency's Voluntary Protection Program (VPP).
VPP recognizes employers and workers who have implemented effective safety and health management systems, while maintaining injury and illness rates below national averages in their respective industries.
"Safety at our El Dorado facility, and at Clean Harbors as a whole, remains our top priority, said Community Relations Representative Christy Gunter. We are delighted that, for five straight years, OSHA has recognized us for operating such a safe workplace, especially as we expand.
The 370-acre El Dorado facility specializes in the treatment of hazardous and non-hazardous waste by high-temperature incineration. Clean Harbors is in the process of completing a $120 million expansion project that will add a third incinerator at the site and lead to more than 100 new jobs.
Our employees' complete commitment to safety is something that truly sets our facility apart, said Safety Manager Cherie Wedgeworth. They've worked incredibly hard to make Clean Harbors El Dorado one of the safest facilities in the country.