Improvement Adds 25 Years to Lifespan Expectancy
---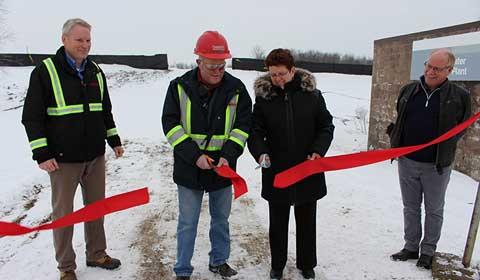 Clean Harbors and local representatives in mid-January cut the ribbon on the first phase of construction in an extensive expansion of its Lambton, Ontario facility after a comprehensive environmental approval process.
The vertical expansion nearly doubles the Lambton Landfill capacity from 1.9 million cubic meters (67 million cubic feet) to 3.65 million (128.9 million) and adds 25 years to its expected lifespan.
Talks on the need for expansion began in the early 2000s with the company beginning work on an environmental assessment in 2011.
 "It was a lengthy process but we collaborated with and worked hand-in-hand with the township, aboriginal organizations and the public," said Vice President of Environmental Compliance Mike Parker of the community support.
Parker, who formerly worked with Ontario's Ministry of the Environment and has extensive experience in landfill assessments, said the approval process for a typical landfill can take up to five years - more for facilities like Lambton that deal with hazardous waste.
The environmental assessment was submitted in the fall of 2014 before gaining government approval in July 2015. From there, Clean Harbors needed to apply for permits and planning approvals from the province and township.
When the final OK was handed down the morning of Oct. 19, crews were out to start construction that afternoon.
Officials opted for a vertical landfill - a landfill on top of a landfill. The plan keeps company land to the south unspoiled.
Accepting essentially all waste that's not radioactive or explosive, the Lambton Landfill is one of three sites in the Canada to take in hazardous materials.
The Lambton site is geographically advantageous to Clean Harbors for its proximity to its Sarnia incinerator, the impervious clay soil that allowed the Company to forgo a landfill liner and relative isolation in Southern Ontario farmland.
A strong sense of goodwill was demonstrated by the local government and First Nations groups at the Jan. 14 ceremony during which Lambton Landfill Supervisor Eric Halcrow (who celebrated his 43rd anniversary working on the site that day) and Township Councilor Tracy Kingston cut the ribbon to commemorate the expansion.
Parker credited the facility operational improvements plus open and regular communication under Andy Hudson, Clean Harbors' senior vice president of facility operations, as the key to the good relationship with the community.