30-35 to be Hired at El Dorado Plant This Summer
---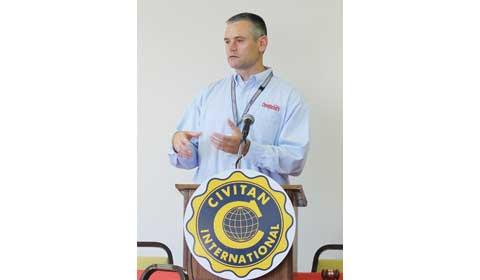 Great changes are coming to the 370-acre Clean Harbors El Dorado facility that sits just outside El Dorado's city limits on the old American Oil property, said Dan Roblee, the facility's general manager. "It's a blessing to be in El Dorado," he began. "There's so many good things going on."
Roblee detailed Clean Harbors current operations as well as the upcoming completion of their expansion and the additional staffing needed during the Civitan Club's weekly meeting on Thursday at Immanuel Baptist Church.
The long-awaited expansion is scheduled to be completed by October of this year said Roblee. Completion of the two-year process will result in a state-of-the-art incineration facility that is designed to meet or exceed all of the regulatory requirements needed. Roblee announced that with the new expansion nearing completion, they are in need of additional staffing to support the operation. Beginning next week, Clean Harbors will begin the campaign for 30 to 35 employees much needed at the facility. Roblee said that they hope to have all 30 to 35 positions filled by August 1st. Some of the positions needed are maintenance mechanics, welders, pipe fitters, hydraulics operators, drivers, and industrial service technicians.