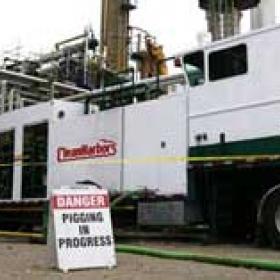 Industrial services cleaning spans many types of activities from high pressure water blasting to specialized cleaning such as pigging and decoking services. Industrial services cleaning of hazardous, non-hazardous, wet and dry material requires special attention and equipment to get the job done right.
Industrial services equipment requires continuous maintenance to ensure that it is running at full capacity under the given circumstances. Maintaining a proactive approach to cleaning industrial equipment will allow for less on-site interruptions and more work.
Clean Harbors' industrial services teams work in refineries, chemical plants, steel and paper mills and manufacturing facilities of all types. The highly trained crews utilize a broad range of specialized equipment to perform industrial services including chemical cleaning, dewatering and materials processing and outage and turnaround services.
Specialized pigging services is a closed loop process for cleaning pipes that uses our patented bi-directional pigs and high volume, low pressure systems to push pigs through the pipes to effect cleaning. Our pigging services will clean pipes without the use of hazardous chemicals and through Clean Harbors' specifically designed filter press units, which recycle up to ninety percent of the water used. Pipeline cleaning performed through the process of pigging safely increases performance, productivity and profitability in your operation.
Pipeline cleaning maintenance is a crucial service for increasing productivity, at fraction of the cost of replacement. Deposit buildup in pipes can lead to perennial damage and severe corrosion that will eat away at the pipeline. Clean Harbors employs effective cleaning methods and applies an insitu epoxy coating to existing lines, which increases maximum lifetime and prevents future corrosive damage from occurring.
Whatever your industrial services needs may be, Clean Harbors' expert teams possess the knowledge and ability to get the job done effectively and on time. With more than 35 years of experience in the industrial services field, Clean Harbors has the equipment, expertise and personnel to assist your business with industrial services of any type.