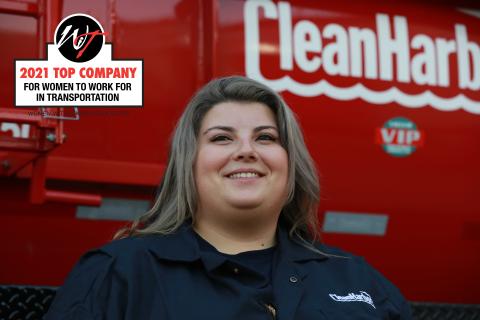 Clean Harbors was once again named a "Top Company for Women to Work for in Transportation" by the Women in Trucking Association – an annual award that recognizes corporate cultures that foster gender diversity, competitive compensation and benefits, flexible hours and work requirements, professional development and career advancement opportunities.
With the 19th largest private fleet in the United States at more than 4,000 dedicated drivers, Clean Harbors is the North American leader in environmental and industrial services.
This is the second consecutive year Clean Harbors has been honored. The recognition was created in 2018 through Women in Trucking's "Redefining the Road" magazine to promote the accomplishments of companies focused on the employment of women in the trucking industry.
To win the award, eligible companies are first nominated and then reviewed. A final ballot is then created and voted on by industry professionals. This year, more than 14,000 votes were cast to identify the top companies – encompassing a diverse range of business sectors, including motor carriers, third-party logistics companies and original equipment manufacturers.
"Clean Harbors has become a mainstay on our list of top companies for female professional drivers," said Ellen Voie, president and CEO of Women in Trucking. "Not only does Clean Harbors do a great job in hiring women and fostering a positive company culture, they're also driving the industry by promoting opportunities for women drivers as a whole and helping to create a more inclusive environment throughout the commercial freight transportation marketplace."
A total of 14% percent of Clean Harbors' full-time drivers are women, a ratio that nearly doubles the industry average of 7.8%. (Source: Department of Labor 2020 census data)
"Receiving this award for the second year in a row is incredibly meaningful to us," said Clean Harbors Executive Vice President of Sales and Service Loan Mansy, who heads the company's technical services, field services and Safety-Kleen environmental services businesses. "It's an acknowledgement of all we've done in creating an inclusive and diverse workforce and it's a benchmark. It shows we're not content to simply rest on these laurels."
She continued: "We're committed to hiring more women every year, providing more growth opportunities for women and further enhancing our work culture on the road and in our offices. We will strive to win this award every year."
In addition to its hiring practices, Clean Harbors was also recognized for establishing a women's employee resource group and offering uniforms specially tailored for women. Following the company's appearance on the CBS reality show "Undercover Boss" in 2019, Clean Harbors also ran with company environmental technician Brianna Johnson's suggestion of building women's locker rooms at company facilities across the United States and Canada.
Clean Harbors will formally accept the award at the annual Women in Trucking Accelerate! Conference, and Expo taking place in Dallas from Nov. 7-9. The company will have a booth at the event and Mansy will speak as a part of a panel on the topic: "The Corporate Culture Factor: Productivity and Longevity for Women in the Workplace."
Click here for the full press release: https://www.prweb.com/releases/clean_harbors_receives_second_consecutive_women_in_trucking_award/prweb18295178.htm