Clean Harbors & Infectious Response
---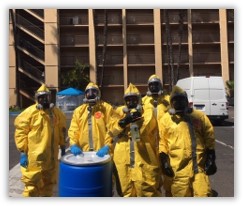 Experts at Remediating Biohazard Outbreaks
We safely handle hazardous and infectious waste streams daily.
We have a proven track record with outbreaks – both large and small.
We staved off the highly contagious avian flu outbreak among the poultry population in 2015 where we decontaminated many large-scale farms, right down to the building studs.
We were called upon to handle the anthrax contagion at NBC studios and the US Post Office in New York following the attacks in 2001.
We routinely perform decontamination work for a variety of customers in a variety of industries in a variety of settings, and we do it safely. We have the right people, equipment, experience/expertise and capabilities for any coronavirus related assignment.