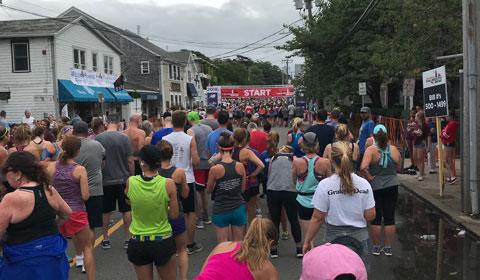 Clean Harbors was a sponsor for the renowned Falmouth (Mass.) Road Race this year.
The picturesque 7-mile course along Cape Cod's coastline from Woods Hole to Falmouth Heights Beach has been called "America's favorite race" by Runner's World magazine, a "must do" by Sports Illustrated and the race of the year by New England Runner. Considered one of the premier non-marathon races in the world, it attracts more than 10,000 runners each year.
Clean Harbors representatives greeted runners at check in for. Additionally, a dozen Clean Harbors employees ran race: David Hurley, Katy Joly, Pavel Milonov, Adam Reusing, Molly DeMayo, Pete Brigida III, Joe Dunn, Edward Jury, Christian Trepanier, Fiona Greene and John Murray.
23-year-old Canadian Ben Flanagan won the 45th running of the race in 32 minutes and 21 seconds. It was his first Falmouth win. In doing so, he beat out four-time defending champion Stephen Sambu, of Kenya, by 11 seconds. Sambu finished fourth. Caroline Chepkoech, 24, of Kenya, took the title for the women in 35 minutes and 48 seconds. It was her third consecutive win.
Just 50 miles from the company's headquarters in Norwell, Mass., Clean Harbors has strong service ties with Cape Cod. As a 4-year-old company in 1984, Clean Harbors made a name for itself by averting an oil spill after the crash of the Eldia off Cape Cod in a snowstorm by pumping more than 100,000 gallons of oil off the crippled tanker.