$10,000 to Arkansas Fire Department, Smoke Detectors to Alberta Community, Safety Booth in Texas
---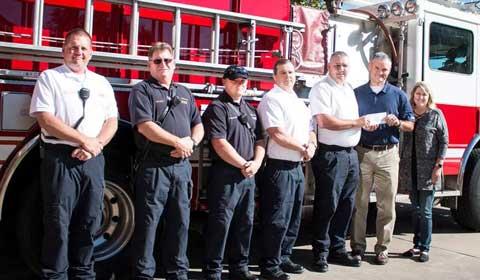 With safety as the top priority throughout the year, fire prevention is always a forefront topic at Clean Harbors. During Fire Prevention Week last month, however, locations across the company took care to give extra attention to the matter.
El Dorado, Ark.
The incinerator team presented a $10,000 check to the El Dorado Fire Department to pay for new equipment meant to safeguard firefighters against carcinogens. More and more, responders to fires are being exposed to burning substances and byproducts that are known cancer-causers. Clean Harbors has joined efforts to prevent such firefighting hazards.
Red Deer, Alberta
Transportation Compliance Specialist Mark Reynolds, who serves as a volunteer firefighter in Innisfail, Alberta, donated 30 smoke detectors to the Innisfail Fire Department on behalf of Clean Harbors. Statistics show three out of five residential fire deaths are a result of fires in homes without working smoke detectors. The donated smoke detectors will be provided to low-income families in the community throughout the year.
Laporte, Texas
LaPorte branch safety leaders set up a booth at the annual LaPorte Health and Safety Fair. The booth proved immensely popular among the 1,500 attendees - especially children and families who were able to learn how to operate a fire extinguisher first hand, meet a Dalmatian fire safety mascot and work on some Clean Harbors coloring books.