Clean Harbors Expands into Underserved Markets
---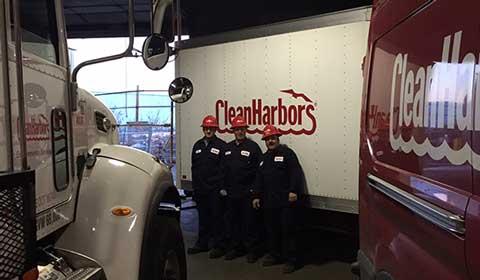 Clean Harbors is expanding throughout the country at a quick rate - growing where there's been an evident field services and an emergency response void. With the Louisville, Ky. and Long Island branches most recent to open, the company will continue to look to bring its manpower and equipment to more markets throughout the year.  
Louisville
Following in the footsteps of the Poca, W. Va location earlier last year, a field services center recently opened in Louisville - becoming the first Clean Harbors location in Kentucky and the middle of a trio of new offices in the Ohio River Basin.
A crew of 10 Clean Harbors employees moved into the Louisville office in July - bolstering the full work force at the location to about three dozen.
"[It was the] right place, right time," said area Field Services Director Brian Ludwig, "and through some evaluation of services we could offer, it made sense to do it."
Louisville becomes the latest in a string of teams to thrive in new environments.
Already well-established in Ohio, Ludwig said Clean Harbors continues to grow its name recognition in Kentucky. With that, he said, will come even more business growth.
With further success anticipated, Clean Harbors is set to open a field service branch in Indianapolis later this year.
Long Island
It's no secret business in and around New York City has long been hampered by nightmarish traffic. With Clean Harbors customers depending on fast response time, quickly servicing business on Long Island through the Big Apple was nearly impossible from the west.  
Clean Harbors opened a field services center in North Amityville, N.Y. two months ago, bringing aboard seven new employees. The office, with Chris Charles installed as the general manager, will now be able to cover Suffolk and Nassau Counties - the whole of Long Island save for city boroughs - without having to worry about bridges and tunnels.
While the new location will allow Clean Harbors to service existing partners - including a major Northeast gas and electric provider - area Director of Field Services Shawn Barrett is confident an on island presence will also open up opportunities for new growth.
"We weren't really competitive from the New Jersey market with the travel time," he said. "We could not adequately respond to our customers' needs in an adequate time frame to get out to the island."
Barrett added the North Amityville location will also better support an energy company on the outskirts of the city and allow them to rebid for service of a prominent railroad travel yard in Queens.
Many of the companies the new Long Island branch is servicing off the bat are businesses Clean Harbors has an existing contract with but tri-state area crews were unable to reach at Long Island locations due to the city chokepoint which could cause two hour plus response times.
"We were just never there to service them," Barrett said. "Now were there and we're getting them."
Plans are to bump up the branch to 15 total employees when new companies begin to come on board.
"[Businesses] are pleased that we're coming out to the island to serve them," said Barrett.