New Resource Promotes Ease and Accessibility
---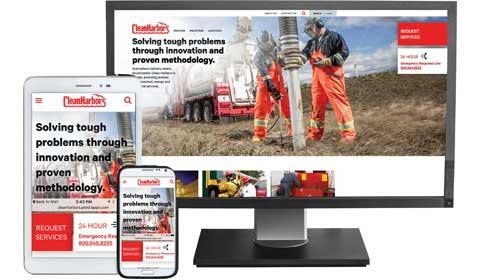 Clean Harbors today announced the launch of its enhanced website, www.cleanharbors.com - a vastly more efficient resource that reflects the company's position as the leading provider of environmental, energy, technical, industrial and field services throughout North America.
While visitors will undoubtedly first notice the site's sleek new look, www.cleanharbors.com is now designed to enhance the user experience by making information more easily accessible. Clients, prospects and visitors will find greater functionality, including a deeper content library, interactive features, multimedia, more search capability, intuitive navigation and prominent contact information.
Considering the breadth of our offerings, this website reflects the needs of our diverse range of customers and supports the industries we serve, said Eric Kraus, executive vice president of corporate affairs. The redesign goes a long way in reinforcing our various brands and provides the information that our customers and other key stakeholders need.
The vivid imagery underscores the innumerable emergency response, waste disposal, recycling and environmental services Clean Harbors offers along with the company's grassroots history. It's viewable and easy to navigate on any computer, tablet or smartphone.
We created the site to be visually striking but, more importantly, we wanted to make sure people have everything they need at their fingertips to make informed business decisions, said Kraus. We made sure every piece of content is both relevant and easy to pinpoint.
Founded in 1980 and based in Massachusetts, Clean Harbors provides waste disposal, emergency response, chemical packing, recycling, and energy, technical, industrial and field services to clients in all 50 states, Canada, Mexico and Puerto Rico. The company serves a diverse customer base, including a majority of the Fortune 500 as well as numerous government agencies. Through its Safety-Kleen subsidiary, Clean Harbors is North America's largest re-refiner and recycler of used oil. For more information, visit www.cleanharbors.com.