Employees Credited with Building Safety Culture that Led to Decades-Long Streaks
---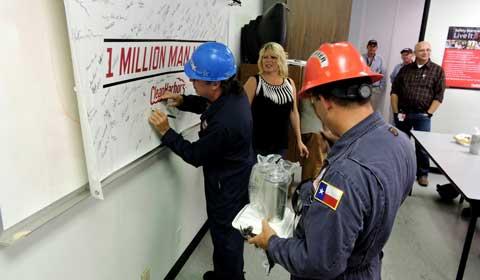 Employees sign a banner commemorating the 1 million hours of safety mark in the Clean Harbors Deer Park facility
Clean Harbors' East Chicago re-refinery hit a remarkable safety feat recently - logging 20 straight years of labor without a work related injury. The milestone follows the Deer Park incinerator and all company lodging services this summer reaching the 1 million hour mark without a lost time injury.
The three accomplishments represent years of constant, meticulous labor and symbolize how vital safety is to Clean Harbors workers across the continent.
Innumerable factors go in to reaching the 1 million hour mark and well beyond to 3.7 million in the case of East Chicago, said Senior Director of Health and Safety Jerry Huber. Facilities must keep up to date with proper protocol as workers remain perpetually cognizant and make a concerted effort to avoid apathetic work measures that lead to injury.
"Not taking any shortcuts, becoming complacent or lazy is key," he said. "We have policies and procedures in place, and those are all based on things that need to be done in order to keep people safe and keep any kind of risk to a minimum. As long as employees are following those procedures and not taking shortcuts, that really is a testament to the success."
East Chicago Re-refinery
East Chicago's milestone is all the more impressive considering how dangerous some of the jobs are out of the Indiana location. Workers deal daily with hazardous and flammable materials, but remain on the top of their game.
Regional Health and Safety Manager of the location, Gary Malinowski, attributes the feat to superior collaboration.  
"The employees are very crucial to the success of the entire facility's safety program. Not only do they have to follow safety rules, policies and procedures to avoid injury; they look out for other personnel, visitors, and contractors as well, because, as a safety manager, I can't be on-site all the time," he said. "Building a good safety culture and rapport with management and supervisory personnel and line level people in the operations is important."
Quick in praising his staff for the monumental effort put forth, Malinowski called employees an imperative asset to the two decade streak.
"The safety manager or operations manager must set a good example, but the personnel itself is a critical part because, if they don't adopt that safety message or practice," Malinowski said, "it'll fall apart, so it's something that's learned, and taken to heart."
Malinowski stressed the importance of the staff, past and prior, who have established a culture of safety at the East Chicago oil re-refinery. The strong safety culture that runs the East Chicago location is bred from years of best practice in health and safety procedures to create an incident-free environment.
"Throughout 20 years, there have been a lot of people who have come and gone in the facility that contributed to that safety record, and - although current management is strong with the safety message - credit needs to be given to past managers, safety, and compliance personnel, and so forth that had a hand in helping this out and continuing the message that safety is a number one priority in this facility."
The refinery's manager, Jason Shoff, credits the systems put in place for strengthening engagement.  
"We have an active safety committee which highlights areas that need attention and tracks through completion," he said. "The Start-Safe and Stay-Safe programs have been fantastic to acclimate new and long-serving employees with Clean Harbors' high standards. Also, Clean Compliance helps us make sure everyone is properly trained. Our safety record is the result of many people inside and outside the facility helping us 3-6-5."
Deer Park Incineration Facility
Similar to East Chicago, workers at the Deer Park facility in Houston don't have it easy - spending their days destroying collected waste and hazardous material.
Also like East Chicago, Deer Park officials said the achievement can be largely accredited to the hundreds of employees who put tremendous effort and attention into their work. Deer Park Health and Safety Manager Melissa Franklin praised her employees for continuous efforts to keep safe on job sites.
"Our employees are the lifeblood of this facility and they have worked hard to achieve this milestone." she said.
Franklin believes the accomplishment serves to enhance the work environment - employees, who are all mindful and want to keep the streak going, are more aware and leave less of a possibility for injury through careless mistakes.
"Reaching these types of milestones will help in creating a positive safety culture at our site and of course that will lead to fewer incidents," said Franklin. "With every partner staying focused on safety and incident-free workplace, we can send everyone home safely to their families."
Though policies and protocols are set in place to keep employees safe, operations on site are constantly changing, which requires key communication between field workers and the management team.
"The two way communication that needs to occur is key because we're constantly looking at ways to improve those procedures because they are written at one point in time and are good at that point," said Huber, "but if something has happened in the operation that would require the procedure to change slightly just based on different circumstances, in most cases, the people actually doing the work are the ones that can tell us, 'hey, this procedure, if we tweaked this step just a little bit, that's going to improve it for this or that reason,' so it's that two-way communication that has to happen too, which, in these locations, has been immensely successful."
Lodging Services
Operating five lodges in the Fort McMurray region year round along with remote drill camps on-and-off throughout the year to support Western Canadian oil operations, Clean Harbors Hospitality and Camps division collectively hit the 1 million safety mark in August. With more than 2,300 rooms currently available, the lodges are serving approximately 1,000 clients daily.
"This is a remarkable achievement and something each and every one of us can be proud of," said Employee Services Coordinator Brenda Dicks.
"This wouldn't have been possible without the commitment from everyone within the organization - from our employees in the field, to the safety team that supports them, we all worked together to reach this milestone", said Vice President of Camps and Catering Greg O'Neill.