A Conversation with Andrew Shackett of Clean Harbors
---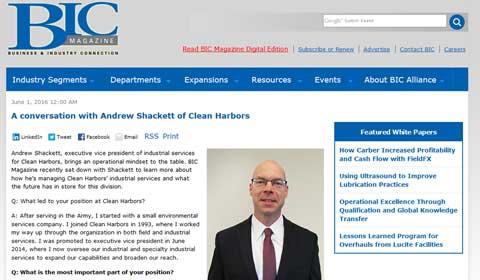 Andrew Shackett, executive vice president of industrial services for Clean Harbors, brings an operational mindset to the table. BIC Magazine recently sat down with Shackett to learn more about how he's managing Clean Harbors' industrial services and what the future has in store for this business unit.
Q: What led to your position at Clean Harbors?
A: After serving in the Army, I started with a small environmental services company. I joined Clean Harbors in 1993, where I worked my way up through the organization in both field and industrial services. I was promoted to executive vice president in June 2014, where I now oversee our industrial and specialty industrial services to expand our capabilities and broaden our reach.
Q: What is the most important part of your position?
A: Driving safety for our employees and great service for our customers. We're working very hard to take our business to the next level. I grew up in the industry within Clean Harbors, so I bring an operational, hands-on mindset.