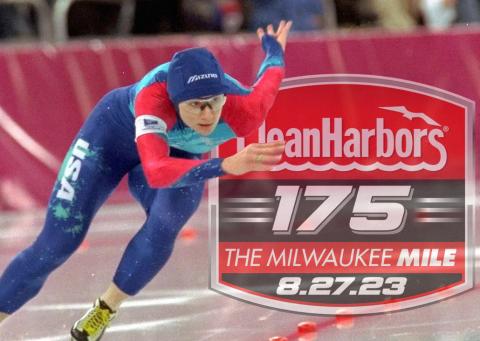 The Return of NASCAR To The Milwaukee Mile Is This Sunday, Aug. 27
WEST ALLIS, WIS. (Aug. 21, 2023) - Pure speed and skill contributed to Olympic hero Bonnie Blair's amazing successes representing the United States in speed skating.
This Sunday, Aug. 27, the 5-time Olympic Gold Medalist and Wisconsin resident will serve as the Grand Marshal and give the command to start the engines, akin to firing the starter's pistol in speed skating, to begin the Clean Harbors 175 NASCAR CRAFTSMAN Truck Series race on The Milwaukee Mile.
"I'm thrilled and honored to participate in the excitement of having NASCAR back here in Milwaukee for Wisconsin NASCAR fans," Blair exclaimed. "When things go fast on an oval and turn left here at State Fair Park, it seems fitting for me to be involved!"
Blair, a member of the Wisconsin Hall of Fame and U.S. Olympic Hall of Fame, is the most decorated female U.S. Winter Olympian of all-time. She is married to 3-time Olympic speed skater Dave Cruikshank and lives in the Milwaukee area. Between her philanthropic activities and motivational speaking engagements, you'll often see Bonnie and Dave training athletes inside the Pettit National Ice Center adjacent to The Milwaukee Mile and the Wisconsin State Fair Park.
"The Pettit National Ice Center is still a big part of my life. My husband and I are working on increasing the number of athletes in our sport with our "DASH" 5013c program that involves young kids all the way up to Olympic hopefuls," the three-time Olympian said.
Blair sped around the 400-meter oval inside the Pettit, still an official Olympic training facility, in preparation for her final Olympics in 1994, where she skated to Gold in both the 500 meter and 1,000-meter events. Now, sports fans can join her this Sunday to enjoy the pure speed of NASCAR racing on the historic one-mile oval next door.
"Bonnie Blair is iconic," said Loan Mansy, Clean Harbors' president of environmental sales and service. "We wanted an iconic sports figure to kick off this iconic race at the Milwaukee Mile. Bonnie's been making America proud and representing the best of the Midwest for decades. With our local Milwaukee ties and Safety-Kleen's long history in the region, including being founded in the city, there are some obvious parallels that made Bonnie the ideal choice as grand marshal to our race."
Clean Harbors is a top 20 private transportation fleet in the United States. Mansy, who was named a 2023 "Top Woman to Watch" by the Women In Trucking Association's "Redefining the Road" magazine, will wave the green flag at the start of the race. 
In her amazing career, Bonnie Blair earned gold medals in three straight Olympics, and a total of five gold medals and one bronze medal in 500-meter and 1,000-meter competition in the 1988, 1992 and 1994 Winter Olympics. She's also the 1986 short track skating world champion. 
"Bonnie Blair is a true sports hero," said Mansy. 
This Sunday's Clean Harbors 175 will be a test of pure speed and skill for the drivers racing in the NASCAR Playoffs, led by the leading NASCAR Playoffs driver from Seymour, Wis., Ty Majeski.
Tickets and event information can be found by visiting www.MilwaukeeMileRacing.com.
Contact: Jim Tretow
Track Enterprises / Milwaukee Mile
Jtretow@spiresportsinc.com
(414) 248-1896 
Keith Ferguson 
Clean Harbors Director of Communications 
ferguson.keith@cleanharbors.com
(781) 264-8587
About The Milwaukee Mile
The Milwaukee Mile, located at Wisconsin State Fair Park, is the oldest continuously operating speedway in the world, hosting at least one auto race every year since 1903 (except during U.S. involvement in World War II). The Milwaukee Mile is a paved one-mile oval race track with grandstand and bleacher seating for approximately 35,000 spectators.  The NASCAR CRAFTSMAN Truck Series contested races on the one mile oval annually from 1995 through 2009.
About Track Enterprises
Track Enterprises is a premier racing promoter in the Midwest and operates from its offices in Macon, Ill.  Track Enterprises operates dirt racing facilities in Macon, Ill., and Lincoln, Ill. and promotes events at the Springfield Mile in Springfield, Ill., DuQuoin Mile in DuQuoin, Ill., Nashville (Tenn.) Fairgrounds Speedway, The Milwaukee (Wis.) Mile as well as events at other facilities throughout the South and Midwest.
In 2019, Track Enterprises merged with powerful Charlotte, N.C., based Spire Sports + Entertainment and will be promoting 27 events in 2023 with popular sanctioning bodies such as NASCAR, ARCA, ASA STARS, USAC, CRA and DIRTcar Racing.