Overview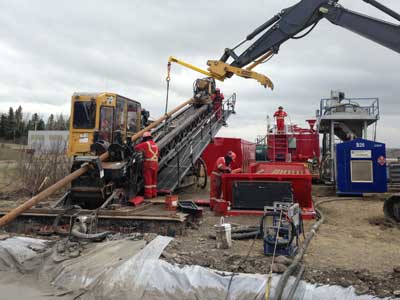 Clean Harbors Directional Drilling/HDD services provide trenchless installation of underground pipelines and utilities with minimal ground disturbance.
Clean Harbors is experienced in complex engineered HDD crossings. We are involved with the customer from design to execution to help ensure the project is successful. Consulting services are also available.
Clean Harbors offers the Ditch Witch® JT100 All Terrain directional drill for drilling in rock conditions. The All Terrain reduces the amount of water normally used in mud motoring with the capability of drilling through solid rock at lower gpm versus a normal mud motor process, which uses 300 gpm. The All Terrain directional drill also decreases the chance of a frac out.
Capacity
Bores up to 1,000 meters in length
Pipe sizes up to 36 inches in diameter (48-inch bore hole)
Up to 300,000 pounds of pullback
Up to 50,000 pounds of torque
24-hour shifts
One of the largest fleets of 100,000 pounds and smaller rigs in Western Canada
Clean Harbors can also use directional drills in innovative applications such as removing blockages in pipelines and installing dewatering lines.