Overview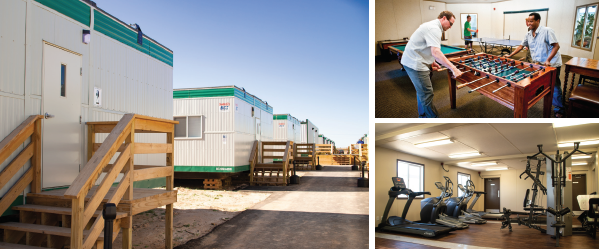 Book Your Room Today! For room reservations or rates call: (844) 989-5634
With more than 35 years of industry experience, Clean Harbors is a leading provider of workforce accommodation solutions. We offer short term and long term options, comfort, quality and the highest level of catering and camp management services. Our Lodges are designed by people who have lived in the field and understand the unique living, social, and related needs of construction and oilfield workers.
Lodging Amenities
Delicious Meals
Superior Housekeeping
Cleaning Supplies & Laundry Facilities
Fully Equipped Common Areas
Fully Equipped Fitness Rooms
All Private Washrooms
Wireless Internet
Easy Access Vending Machines
Our lodges are maintained to the highest possible standards of cleanliness and service. Our dining areas are designed with a large open concept, circular tables and premium chairs. The common areas feature sofas, large televisions, games tables, and informal meeting spaces. The recreation facility includes pool tables, ping pong, card tables and a gym with cardio equipment and free weights.